A minimal digital vector illustration for this book cover design concept for a revisionist fairytale.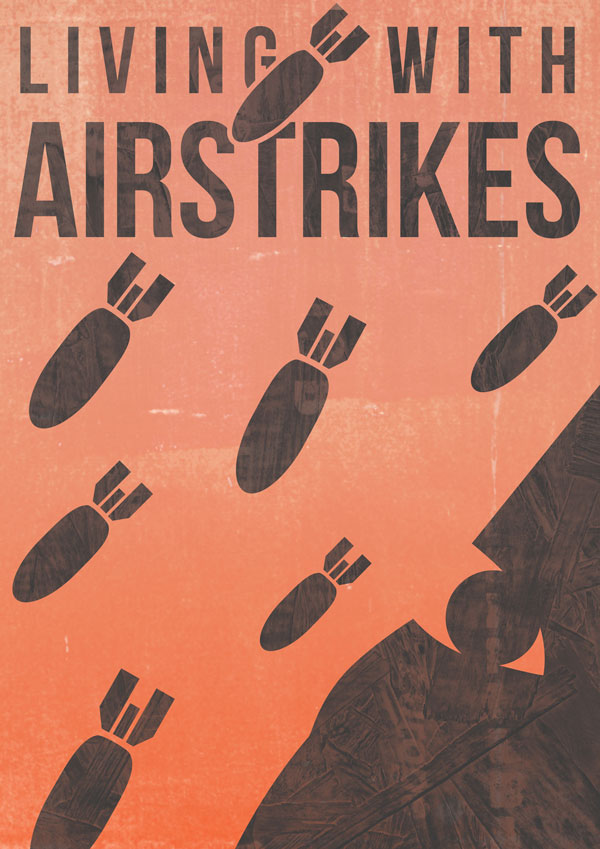 This digital illustration is for the concept 'Living with Airstrikes – an illustrated guide'. The illustration, with its minimal and simplistic shapes, together with the limited colour palette, takes its influence from the works of Saul Bass. The initial layout and shapes were created in Adobe Illustrator and then exported to Photoshop. Using non-destructive editing […]
Whether you want more information about my logo, illustration and print design services, a tailored logo or a print design quote, get in touch.
Vector and texture tandem bike illustration Available to buy on Society6
Mountain with something wrong. Probably just feeling a little peaky. Vector illustration. Available on Society6
Hand lettering illustration 'I'm wearing a wire' available as a tshirt design and other apparel on Society6
Hand-cut typographical poster design incorporating found textures and vector illustrations. This digital illustration is inspired by the themes of vampires, zombies and unforgiving knee-jerk blood-thirsty reactions to polarised stories in the media.
she isn't yet… Inspired by the Brothers Grimm fairytale 'Little Red Riding Hood'. The spectre of the big bad wolf can be seen amongst the trees in this stark, minimalist forest scene. Available as an art print and other products on Society6
The well known fictitious restaurant for carnivorous diners This is available on society6